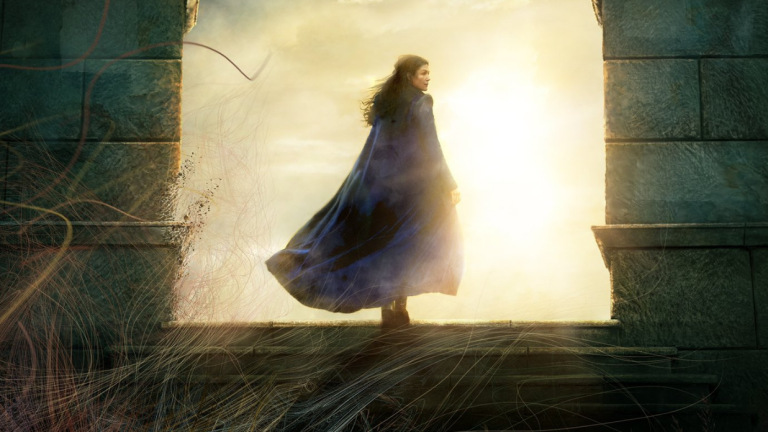 Wheel of Time Release Date
We may not have a trailer yet, but we do have a release date for Season 1 of the Wheel of Time series! According to the new poster, the first season will drop in November 2021.
The Wheel of Time portion of Amazon's SDCC@Home panel consisted of showrunner Rafe Judkins (Agents of SHIELD) giving some general insight into his enthusiasm for the series, and why others might like it. The segment culminated with Judkins premiering a Wheel of Time poster, that is suitably intriguing while also not giving us that much to go on. But, hey, it's a poster, what more do you want?
Judkins had this to say about the poster: "I think fans of the book will recognize this as a very iconic moment in The Eye of the World. And I think what I like about is, for people that don't know anything about the books, this is a moment when you see our lead, Rosamund Pike (Moiraine) looking back over her shoulder and saying, 'We don't know what's through here, but come along for the ride.' And I think that's what's so fun about these books and why people love them. It's not necessarily that you need to know every specific of what's in them, but you know that 90 million people have read and loved this thing, and if you walk through that door, you're coming into something really exciting and special."
In addition to Pike, Wheel of Time also stars Daniel Henney as fan-favorite character al'Lan Mandragoran, as well as Josha Stradowski as Rand al'Thor, Marcus Rutherford as Perrin Aybare, Zoë Robins as Nynaeve al'Meara, Barney Harris as Mat Cauthon, Madeleine Madden as Egwene al'Vere, Michael McElhatton as Tam al'Thor, and Álvaro Morte as Logain Ablar, as well as Maria Doyle Kennedy, Priyanka Bose, Daryl McCormack, Sophie Okonedo, Clare Perkins, and Kae Alexander. 
You can watch Amazon's entire SDCC@Home panel below, which also features peaks into Evangelion:3.0+1.01 Thrice Upon a Time, S.O.Z., I Know What You Did Last Summer, and Leverage: Redemption.