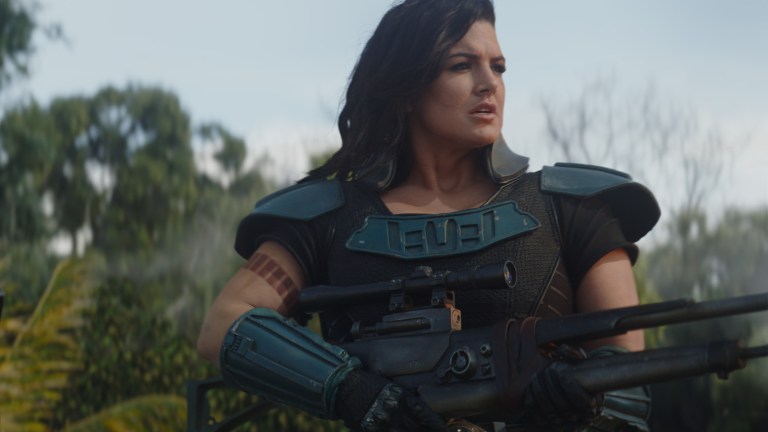 Rangers of the New Republic, as described by Kennedy during last December's Disney Investors Day event, would tie into the other shows, all of which would converge in a big crossover event. But who would star on the show and what would it be about? Reports pointed to Gina Carano, the actor who played mercenary (and later, New Republic marshal) Cara Dune in the first two seasons of The Mandalorian, and who was recently fired from the franchise after becoming the subject of several online controversies. With Carano out, some Star Wars fans wondered where this would leave Rangers?
A new report from Variety seems to provide at least a temporary answer. Rangers of the New Republic "is not currently in active development," according to the outlet. Does this mean the show is canceled? No.
Stream your Star Wars favorites right here!
The Book of Boba Fett, for example, is due out this Christmas, while The Mandalorian season 3 also remains a priority for Disney+, which will also release Obi-Wan Kenobi and Andor next year. With such a busy schedule, shows like Ahsoka and Rangers might not even bow until 2023 at the earliest.
If Carano was indeed to be the focus of Rangers, it's definitely possible that her firing has delayed things further for the series, but it's not necessarily the nail in the coffin. The title of the show even alludes to an ensemble of characters as opposed to a single protagonist. Could Timothy Olyphant's self-appointed marshal, Cobb Vanth, be another one of those rangers? What about Paul Sun-Hyung Lee's Captain Carson Teva? Or could Bo-Katan Kryze (Katee Sackhoff) decide to become a ranger? The point is that Carano's exit hardly seems like a dead end for this series.
Variety's report was part of a bigger story on Lucasfilm veteran Dave Filoni, who has been promoted to Executive Creative Director at the studio, which gives him an even bigger voice on upcoming Star Wars projects. Filoni has been one of the stewards of the franchise since before George Lucas sold his empire to Disney back in 2012, first cutting his teeth on The Clone Wars animated series before creating Rebels and then landing a producer role on The Mandalorian working alongside showrunner Jon Favreau.
A statement from Lucasfilm to IGN about Filoni's new role also suggests that the producer's slate of upcoming projects, including Rangers of the New Republic, hasn't changed.
"Dave has been serving as Executive Producer / Executive Creative Director at Lucasfilm for quite some time now," a Lucasfilm spokesperson told IGN. "We simply updated our website. Nothing has changed with his current and future projects. He is busier than ever in a galaxy far, far away!"