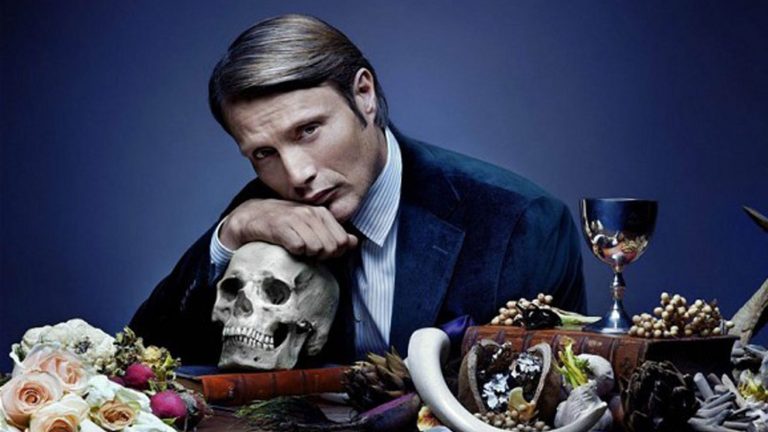 The Cubist interpretation of Hannibal's Season 3 episode "Dolce", which sees Will catching up to Hannibal in Florence, was created by New Jersey high school senior Kathleen Palmer, and is gorgeous (the U.S. Capitol should be so lucky to have this piece of art hanging in its hallowed halls). The Twitter rounds of the artwork eventually made it into Fuller's newsfeed, and even prompted a follow-up question from a U.S. Congress person who is apparently also a Fannibal.
Andy Kim, a congressman from New Jersey's Third District, tweeted at Fuller: "If I invite you to the Capitol to see the artwork, does that mean there will be a Season 4?" (Hannibal fans are everywhere.) Fuller, who is obviously on board with another season of the beloved show but would need a distribution deal to do so, told Kim "I HOPE SO!" A willingness to continue on with Hannibal has been Fuller's consistent messaging, on Twitter and elsewhere, ever since Hannibal went off the air six years ago, and Mikkelsen and Hugh Dancy are also on board.
Interest in Hannibal peaked again last year when all three seasons of the show, which originally aired on NBC here in the U.S., dropped on Netflix. (The series' time on Netflix is soon coming to an end.) But adapting the Harris book series has always been a complicated venture, and not for the faint of heart. While Gaumont International Television, which produced Hannibal, has the rights to the Hannibal, Hannibal Rising, and The Red Dragon novels, MGM has the rights to Silence of the Lambs, which means Fuller was unable to use any of the characters that originate in that book for his TV adaptation, including Clarice. If Fuller were to continue the Hannibal story in some format, he would like to try to get the rights to Silence of the Lambs too, as mentioned by series star Mads Mikkelsen told Bloody Disgusting back in 2019.
"I haven't heard anything specific," said Mikkelsen regarding the possibility of a Hannibal Season 4. "I know Bryan is still working on some ideas where we can find a new home for this. I also have a strong feeling that everybody who was involved in it would gladly pick up the glove again if that happens. I don't know where they looked. That is above my paycheck, but I know they've been talking to different studios. I know that [Fuller] was working to get the rights to Silence of the Lambs so he could get in there and use some of those characters for his own universe. I have a hunch that might be where we're going."
Would you be interesting in a fourth season of Hannibal? Let us know in the comments below.