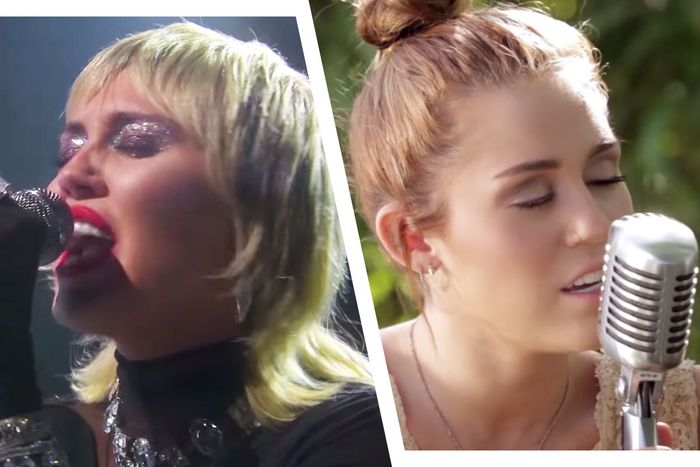 Miley Cyrus, Disney star turned perennial headline-maker, has long recognized the power of a good cover. And she has the voice to back it up — one that can effortlessly traverse pop, rock, country, and soul. While she's been recording covers since the late aughts, she made them a more intentional staple of her repertoire with her Backyard Sessions YouTube series, which first debuted with three fan-favorite covers in 2012 and returned by popular demand in 2015 with even more, along with some guests. She's found success in other venues, too, from the BBC Radio 1's "Live Lounge" to the stage of The Tonight Show to tributes and covers compilations. (Not to mention her live shows, where she regularly busts out new covers in the name of fan service.) In 2020, Cyrus's covers were back in the spotlight thanks to a new cover of Blondie's "Heart of Glass" hitting streaming (once again, by fan demand) and another revival of the Backyard Sessions as an MTV Unplugged special. The same weekend as the Unplugged special, she surprised with two more covers at her virtual Save Our Stages Fest set, further proving she's on a real covers streak. And just a week after releasing her longtime-coming rock album, Plastic Hearts, she dipped her toes in grunge with a Hole cover. As the Plastic Hearts cycle has continued into 2021, so have the covers, from Mazzy Star at Cyrus's NPR Tiny Desk to a slew of songs at her Super Bowl LV pre-show on TikTok. It's the perfect time to take a look back at the highs and lows of Cyrus's covers discography. (In the name of setting boundaries, we're sticking to officially released covers, meaning no live bootlegs.)
It's hard to consistently pinpoint what makes a Cyrus cover great. Sometimes, it's picking the perfect song for the moment; others, it's bringing a left-field song to a new audience or imbuing it with new meaning. Sometimes, it's singing the song that shows off the best contours of her voice; others, it's bending songs that just shouldn't work to her will. But a big swing can't always be a hit. Many of Cyrus's misses often have the makings of her great covers and end up faltering for the reasons the others succeeded: a vocal performance played too straightforward or too outside the lines; a song choice that sets her up to disappoint or ends up ringing empty. Regardless, her best and worst covers alike are rarely not interesting. Here is every Miley Cyrus cover song, ranked.
57. "Lucy in the Sky with Diamonds" (the Beatles) with the Flaming Lips and Moby, With a Little Help from My Fwends
The Flaming Lips' frenetic Beatles covers album is chaotic, and Cyrus's participation barely has anything to do with that. This fuzzed-out take on the song sounds just terrible, with Cyrus giving the most absent vocal performance she's ever sung.
56. "Zip-a-Dee-Doo-Dah" (Song of the South), Disneymania 4
Few things have made me happier that Cyrus eventually left Disney than her terrible cover of the big hit from one of the company's most racist films.
55. "No Tears Left to Cry" (Ariana Grande), BBC Radio 1 "Live Lounge"
Doing a pop cover with a strings section is a gimmick on its own; singing about "vibin'" while you're only backed by a strings section is just silly.
54. "Happy Together" (the Turtles), Backyard Sessions 2015
Done well, this one-hit wonder by the Turtles is lighthearted and buoyant. Cyrus makes it the opposite with another checked-out, almost mournful vocal — along with ditching that awesome horn part.
53. "Girls Just Wanna Have Fun" (Robert Hazard), Breakout
Maybe Cyrus could pull off a better cover of this Cyndi Lauper hit today, but she couldn't shake the Disney off in her 2008 performance.
52. "Different" (Joan Jett & the Blackhearts) with Joan Jett, Backyard Sessions 2015